The 88th Annual Academy Awards ceremony was an overwhelming blur of decadent sets, bedazzled dresses and big wins that I'm only now beginning to process. While it goes without saying that Spotlight's Best Motion Picture and Best Original Screenplay victories were my favorite moments of the night, I couldn't help but turn my eye towards the event's immaculately executed design. From the red carpet to the stage, Art Deco's influence reigned supreme. Back for his fourth consecutive year, production designer Derek McLane drew on the grandeur of the era, crafting lavishly ornate sets that harkened back to a romantic age. Below I've selected a few choice red carpet looks that captured the Academy Awards' theme of gilded glamour.

Alicia Vikander in Louis Vuitton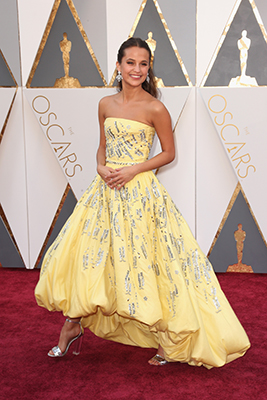 With its bold color and intricate beading, Alicia Vikander's Louis Vuitton gown was a serious standout. Subtle sparkle, a ruffled train, and statement earrings make for a elegant yet fresh feel. It doesn't hurt that an Oscar makes for the perfect accessory.
Jennifer Lawrence in Dior Couture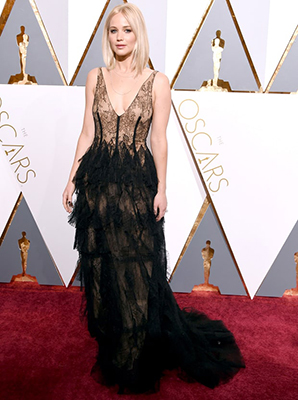 Back in black, Hollywood's Golden Girl Jennifer Lawrence donned a ruffled lace Dior Couture dress with an understated elegance. The contrast of the sheer bodice and tulle and feather panelled skirt gives this dress a flirty, flapper girl feel.
Charlize Theron in Dior Haute Couture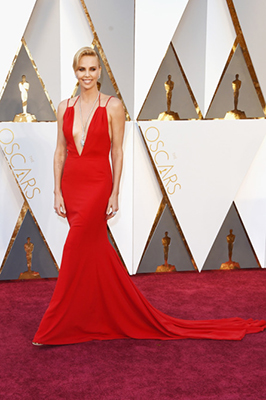 Charlize Theron's red hot Dior Haute Couture number proves that simplicity can make a statement. Though the carpet's signature color can be hard to pull off, Charlize did it effortlessly, emphasizing her plunging neckline with a stunning 48-carat diamond cluster necklace from Harry Winston.
Naomi Watts in Armani Prive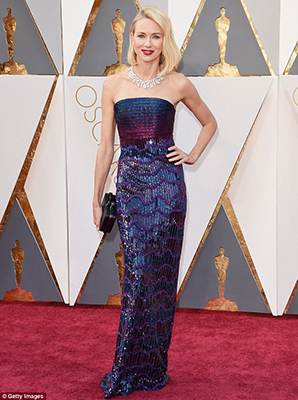 Naomi Watts' form-fitting blue and purple Armani Prive dress presented a fresh take on sequins and a signature shine that can't help but be compared to the Art Deco era. Platinum blonde locks, red lipstick, and a show-shopping Bulgari diamond necklace complete this retro look. The fact that her arm candy is Spotlight actor Liev Schreiber only makes this outfit shine brighter.
Lady Gaga in Brandon Maxwell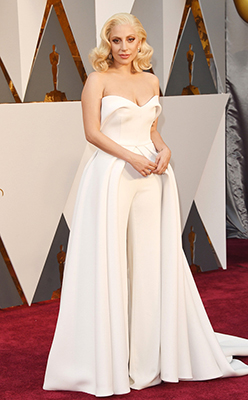 Leave it to style maven Lady Gaga to rock a pantsuit on the red carpet. Designed by her stylist and best friend Brandon Maxwell (whose collection I coveted in a previous post), Gaga's white ensemble, coupled with the star's blonde waves, oozed Old Hollywood glamour.  
Image Sources: Academy Awards stage, set design renderings, Alicia Vikander, Jennifer Lawrence, Charlize Theron, Naomi Watts and Lady Gaga