Someone recently asked me if I had to identify my perfect space, what would it be? Sooooftball. Snooze. Answer for $200: the Connaught Bar (housed in its namesake hotel in Mayfair, London).
Inspired by English Cubist and Irish 1920s art, the late lion of interior design, David Collins (d. July 2013), produced a space so alive you could swear it beats to its own pulse. Simply step inside and the room whisks you to another place and time entirely of its own creation where for a brief slice of eternity you can leave your identity at the door and lend yourself to this glittering otherworld of ultimate sophistication. It is no wonder that Collins (The Wolseley, Gordon Ramsay at Royal Hospital Road, Jimmy Choo, Alexander McQueen and The London, among others) described this project as the one being nearest and dearest to his heart.
So how can we mere mortals seek to scratch the surface of Collins' genius, you ask? Why, just stare at your empty canvas and repeat to yourself this quote from Collins – "I never know what it's going to look like but I know what it's going to feel like." And then you might come up with your own little version of this: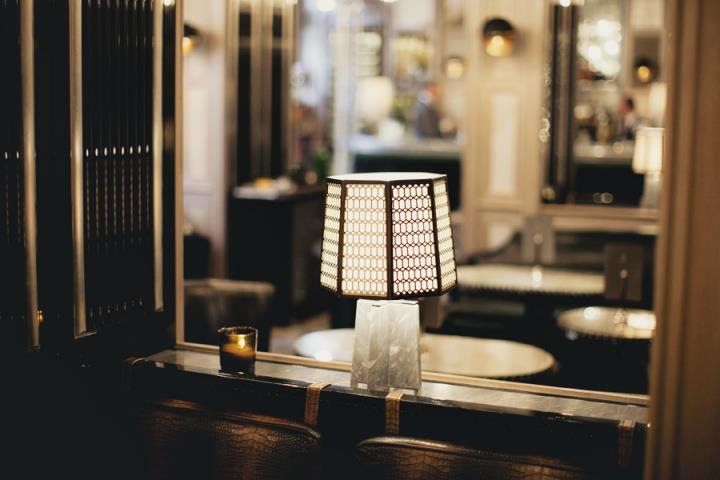 Don't you just feel like you belong in this perfect world (and daresay deserve it)? With this glittering prop at your aid, you can almost believe that you are today's Marlene Dietrich or Grace Kelley…or really anyone or anything that you dare to conjure for your brief stay in this modern fairytale. (Have I butchered your vision, Mr. Collins?!)
Okay, so even if you don't buy my madcap musings on feeling, there is no denying the exquisite attention to detail throughout.
Take a look at these walls for example: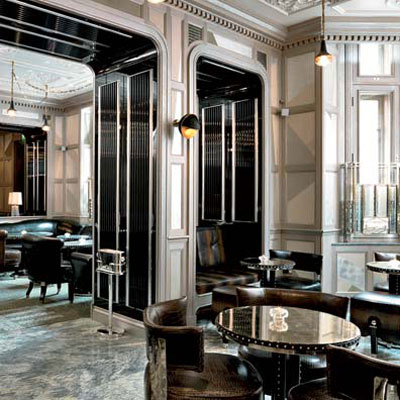 If you pay close enough attention and look beyond the platinum silver leaf (overlaid with dusty pink, pistachio and lilac), you might realize that all the patterns come together to form a map of Connacht, Ireland (don't worry, I was one of the "99.9%" who missed it prior to stealing the answer key).
And…shhhh…these chairs have a secret of their own as well.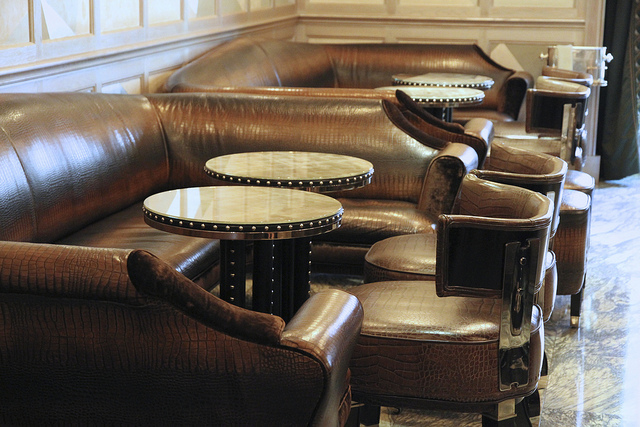 You wouldn't know it, but the undersides of all the tables, chairs, and banquettes are lined with baize to absorb the sound (but just enough so as to not deprive you entirely of the Music Concierge compiled playlist piping a sexy soundtrack into your evening).
Then there is the famous Martini trolley, an accessory to match all accessories.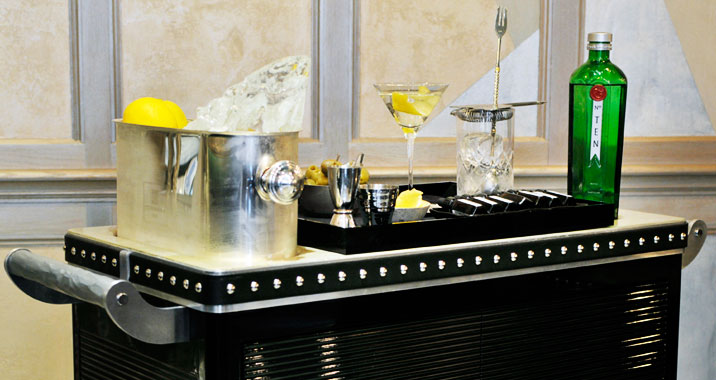 Sublime.
Really, what else could you ask for?
Oh, that reminds me.
There's of course the ambrosia-like creations of head mixologist Agostino Perrone.
The sleek uniforms of the bar staff designed by No Uniform.
And canapes that spring from the mind of Hélène Darroze, the French chef behind the eponymous Michelin starred restaurant in the hotel.
In other words…they've left no sense unturned and created a room that truly "has it all." (A feat to take note of no matter what your purse strings might bear.)
What's spaces have it all for you? Please do tell!